Class Descriptions
Aerial Silks Skills Level 1
---
These classes are a great introduction to aerial arts and to starting your own aerial practice. In class you will build upper body and core strength as well as leg and shoulder flexibility. These classes focus on learning fundamental moves and the aerial vocabulary that is necessary to progress into wider aerial skill sets.
---
Aerial Silks Skills Level 3
---
In this class, students will focus on vertical training and their understanding of wraps and technique on Fabric as well as build their endurance in the air. As we work with more height and layer skills, students will work on precise positioning and pathways in order to understand more complex skills and sequences.
---
Advanced Aerial Skills or Dynamic Aerial (Instructor approval)
---
Includes skills that require more strength, coordination, and/or body awareness than intermediate. Most dynamic skills are at this level.
Skills include but are not limited to: Straddle Climb, Fancy catcher's, Simple Planche, Flag, Scissor Hip Key, Windmill, Double star, Cartwheel.
---
Lyra Skills Level 2
---
Learn a flow of mounts, balances, poses, and terminology associated with Aerial hoop to create beautiful sequences!
---
Open Gym
---
A great place to practice your skills and sequences at your own pace under the watchful eyes of a coach.
Open Gym is for Aerial View students only.
---
Act Creation
---
A class to help you create your next routine on Silks, Sling, or Lyra. Kendell will help you develop your act, create character and purpose, and stylize your routine. Then practice your routine through open gym at no extra cost. A great way to prepare for the Recital!!
---
Circus Sampler
---
Learn Basics and a fun combo on Aerial Sling, Lyra, Trapeze, and Silks. Each class will be taught on a different apparatus. Get to know them all and then focus on your favorite!!
---
Sling Skills Level 1
---
Aerial sling is kind of the gate-way apparatus to aerial dance. It is a low hanging hammock type set-up that is comfortable, safe and doesn't require the same amount of strength or coordination that aerial silks
does. In this class we will explore connections to the floor traveling upwards and building up that core and arm strength needed for the other apparatuses. The sling is a great combination of the trapeze and fabric- so two times the fun!
---
Aerial Silks Skills Level 2
---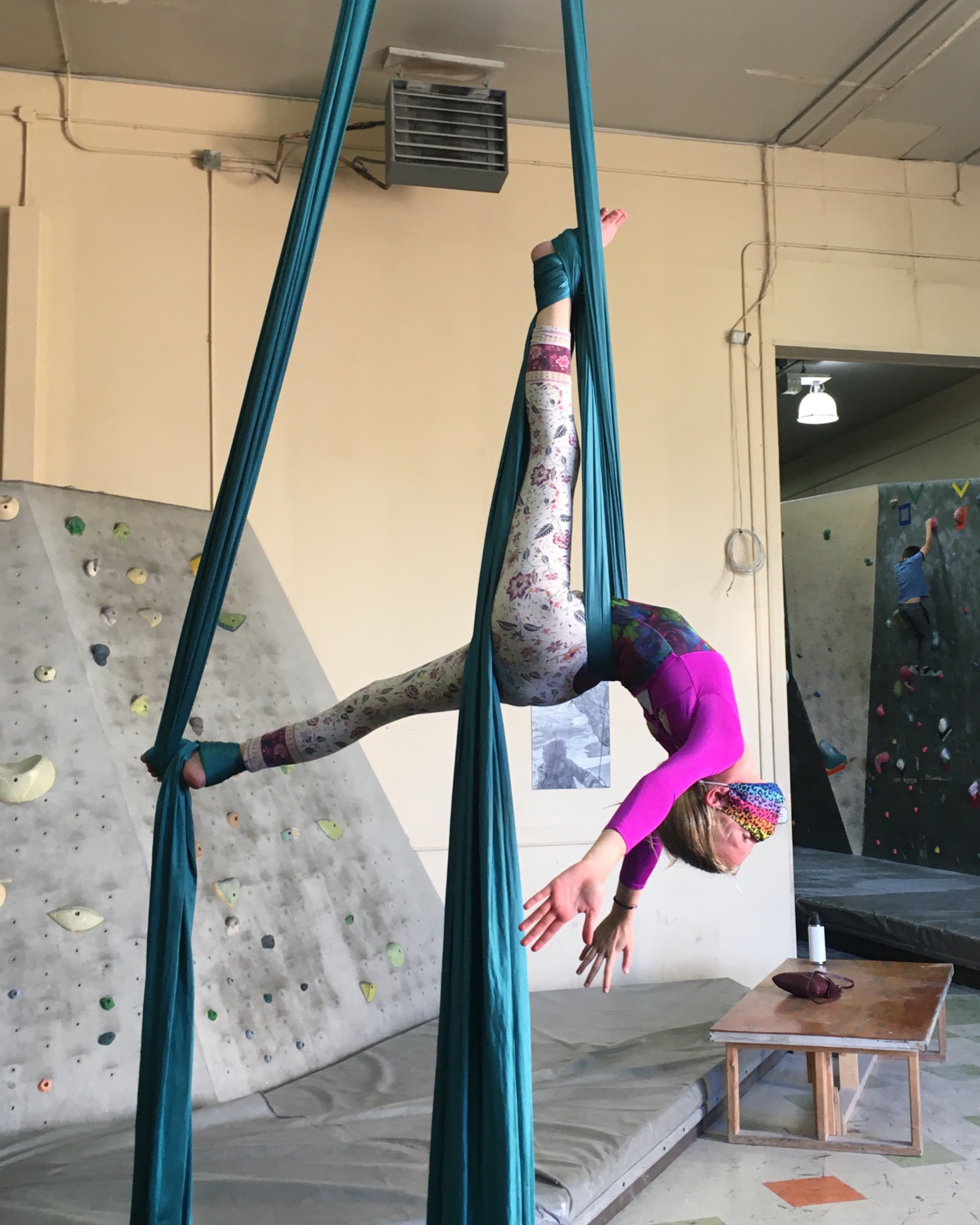 These classes will build onto the aerial vocabulary we learned in Level 1. We'll focus expanding on fundamental moves, and building strength for inverts in the air. We'll also learn our first flips in the silks.
---
Dance Trapeze Skills Level 1
---
Explore the world of the horizontal apparatus with us in this fun class! Don't think of the flying trapeze where you release the bar to be caught mid-air. Dance trapeze stays close to the ground and is rigged from a single point for spinning. With the metal bar for support it is a great beginner apparatus. The ropes offer a variety of transitions and beautiful poses. The trapeze becomes a dance partner as you learn to flip and fly.

---
Mobility & Flexibility Class
---
In this much needed class we'll focus on creating more mobility in our joints while also working on active flexibility training for a specific goal. Each week the goal will change, options include: Splits, Straddle, Back and Shoulders, Pike, and Hip Extension. Active Flexibility allows you to build strength at your end range movement, increase control, and safely learn how to use your muscles to go deeper into a stretch.
---
Lyra Skills Level 1
---
The Lyrical Hoop is a great place to start your circus journey. Learn basic mounts, create shapes, learn aerial terminology and technique without the constriction of fabric.
---
Circus Circuit
---
For Lunchtime we'll have a traditional circuit training with a circus flair! This class combines a circuit style workout with circus strength and endurance exercises. Appropriate for all fitness levels and all fitness participants!
---
---
The Circus Arts are a beautiful, creative, and challenging art form that builds unparalleled upper body and core strength, kinesthetic awareness, coordination, and confidence.
Clothing Requirements
What Should I Wear to Class?
---
When practicing, students must wear appropriate clothing. Tights, leggings, unitards are all recommended. Fabric should cover the waist, back of knees, armpits and elbows.
Clothing must be flexible and connot inhibit range of motion.
Clothing cannot have zippers, buttons or anything that might catch or snag
Clothing must not be loose enough to get caught or snagged on the apparatus being used (silk, sling, ect.)
No shoes on mats or equipment
No long fingernails or toenails
Long hair must be pulled back
Nothing may be worn around the neck
---
---